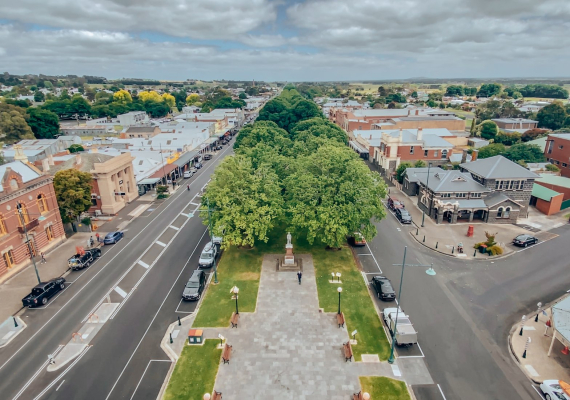 Take a stroll along Finlay Avenue and follow the Camperdown Heritage Signs Trail around...
For tips on how to make the most of your visit, gifts and warm local hospitality be sure to call into Courthouse Camperdown,...
Cobden Pioneer Park is open to the public on the third Sunday of each month from 11am to 4pm. It is also available for hire for...
Western Victoria has up to 3,000km of the most dramatic and accomplished dry stone walls in Australia, historically and...
Are you ready to hit the road and find some quirky...
With so many stately homes and a local passion for history it is no wonder that Camperdown and surrounds are a forager's...
Picturesque sand bottomed Lake Tooliorook is located 5km from Lismore. The lake offers good fishing and boating amenity and...
There is nothing like the sounds, tastes and memory of summer to bring a smile our faces. Whether you are hosting family and...
Invoke, warm nostalgia and a flood of schoolyard memories on the Alan Marshall Discovery...
Grab a brochure online or from the Koroit Bakery and treat yourself to a journey through the town's fascinating...
The land surrounding the township of Macarthur is rich and fertile. Evidence of volcanic activity is obvious as Mt Eccles. About...
Camperdown has a strong affiliation with the acclaimed Scottish bard Robert Burns. In fact the oldest surviving statue of the...
Uncover a hidden gem. Settled on the banks of the Eumeralla River, Macarthur is the gateway to the spectacular Budj Bim National...
The Heytesbury Settlement Historic Park is located on the banks of Simpson Lake and commemorates the development of the...
A water tower in the heart of Lismore has been revitalised by celebrated Warrnambool artist Jimmy Buscombe. Jimmy's...
Tandarook Botanic Gardens, established in 1981, are located in a part of town and on a property that has had many...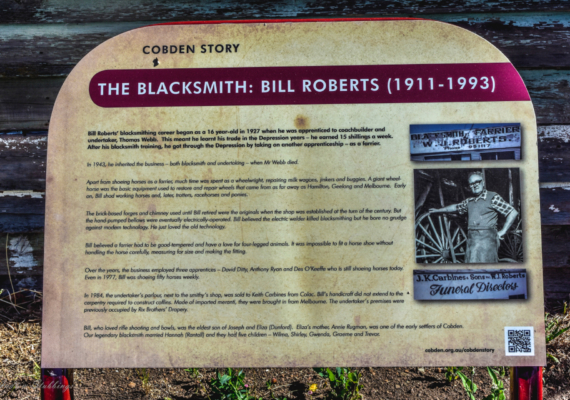 The Cobden Story is a series of signs that interpret key buildings, people and places around town. Pick up a map and see them...